Shopping For Clothes On A Budget
Shopping for clothes can be a challenge when you are trying to stick to a clothing budget. However with some simple tips and strategies, you can build a nice wardrobe that is beautiful and budget friendly.
If you take some time to plan your needs and see your wardrobe as an investment, you can make a little go a long way. You can also fool everyone into thinking that you spend a lot of money on your clothes, when in reality you have learned a few secrets and smart savvy shopper tips! What's the secret? The secret to dressing well is combining some well-chosen, high-quality pieces. Below are you will see my 8 tips to building a beautiful wardrobe while still sticking to a clothing budget.
8 Savvy Shopper Tips For Buying Clothes On A Budget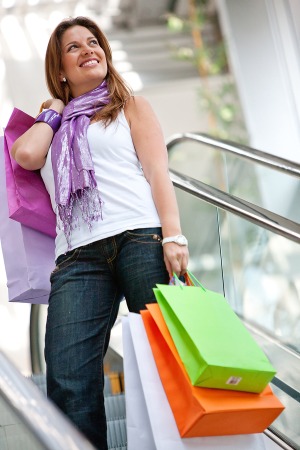 Tip #1: Make a list and an inventory of your clothes in your closet. Take notes of what you need before buying clothes. Buying from a list will help you stay focused and avoid impulse buying.
Tip#2: Buy the highest quality of clothes that you can afford. By doing this, you will see that your clothes last longer, and in the long run save you more money than buying cheaper quality items.
Tip #3:When shopping for clothes buy classic styles and colors. These will stand the test of time and you will always look in fashion without getting too trendy and then outdated too quickly.
Tip #4: Choose clothing separates that mix and match. If you buy carefully, a little will go a long way. For example, five well-chosen tops combined with two pairs of pants will give you ten outfits. Always make sure that you buy items that will go with other things in your wardrobe. This will give you many more options.
Tip #5: Try for a neutral color scheme with your basic pieces. Build your wardrobe around three to five colors that look good on you. Not only will this allow you more mix-and-match opportunities, it will reduce the number of accessories that you need. For example, if you chose a color scheme of black, white, cream, and brown, you could then add lots of color through your accessories, which are less expensive. This is the way to add the latest new trendy color or pattern, through a purse scarf or jewelry.
Tip #6: Choose solids over patterns. Solids mix and match more easily and are less easily remembered than prints. Buying this way will make you look like you have a lot more clothes than you really do. When it comes to pattern add that in a great new scarf, or purse. This will add the splash of fun and color that we all need to brighten up our wardrobe.
Tip #7: Always try to buy on sale. With today's marketing strategies it really is rather easy to buy on sale. Most stores run constant sales. If the item you want isn't on sale today, just wait a week and it probably will be! Don't be afraid to ask at your favorite clothing store when their next sale will be coming up.
Tip #8: Try some online shopping. You will save money, gas, and time. Join your favorite online store's mailing list to take advantage of "insider" sales notifications. This is an excellent way to get high quality for less. Always look for the free shipping. This works well if you know a brand of clothing that you like, then it is easy to know your size.
With a little bit of persistence when shopping for clothes, you can find quality pieces at affordable prices.





Back to Top of Shopping For Clothes
Back to Shopping