Tips For Making Meals On A Budget
Do you want to know how to cook meals on a budget? Would you like some tips on how to stretch your meals to make your dollar go further?
People who lived during the Depression learned very quickly how to make food stretch further in order to feed themselves and their families. Those were scary times, but the techniques used during that time to make food stretch can easily be incorporated into our own meal plans in order to get the most for each food dollar spent.
Meat is one of the most expensive menu items by far. When possible, use half the meat the recipe calls for and substitute beans for the remainder of the ingredient amount.
Use your slow cooker to cook less expensive cuts of meat and they'll be tender and flavorful. Make ground beef stretch by adding cornmeal, minced vegetables, or oatmeal to your hamburger patties. Meatloaf can be made this way as well, which will in turn use less burger so you can use it in another recipe.
Make your own broth by cooking down the bones from a whole turkey or whole chicken. It takes some effort, but the broth can be frozen for later use. Soups and stews are perfect for those cold winter months when fresh produce isn't as readily available.
Start a soup pot in your freezer. Every time you have a few leftover vegetables or meat (not enough for an actual meal), add them to a container in the freezer. When the container is full, make soup! Here is when your homemade broth comes in handy. To make the soup go further, add brown rice or pasta.
Casseroles are another great option for using up leftovers and a great way fo making meals on a budget. Add cheeses, spices, and broth for flavor.
Mix up your own dry pancake, muffin, waffle, and cream soup mix and store it in the pantry instead of buying ready- made boxes of these mixes. Yours will be less expensive and won't be hiding unnecessary ingredients like extra salt.
Turn leftover oatmeal into pancakes by adding the basics – eggs, milk, sugar, and flour. Top with preserves, syrup or fruit and you have a healthy and filling meal.
Use up extra fruit by combining it with yogurt and milk for a healthy and delicious smoothie.
The fewer ingredients a recipe requires, the more you can make your meals on a budget. Try to stick with recipes that call for seven or fewer ingredients and you'll find that you're saving money each month.
Once-a-month cooking can be beneficial for larger families. Organize a few families and get together once a month to cook up several meals ahead of time for the next 30 day time frame.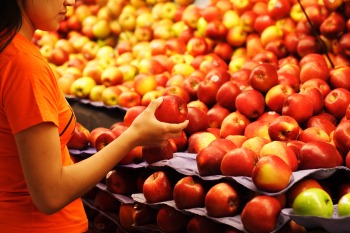 Take advantage of the places where you pick your own vegetables or fruits and then can or freeze them for later. Or better yet, grow your own in a garden plot or in containers. Learn to can fruits and vegetables and you'll have jams, jellies, salsa, tomato sauce, applesauce, and other fresh canned goods at your convenience without going to the grocery store.
Make double batches of food items like sloppy joes or spaghetti sauce and freeze the extra portions.
Bananas past their prime can be used in banana bread, muffins, baby food, or smoothies. Bananas will freeze for later use, so don't throw away bananas that appear to be too brown. Remove the peel and freeze.
A Few Additional Tips for Meals On A Budget...
Try a baked potato night. Cook up large baker potatoes and then have a lot of interesting fixings to put on top. Everyone will get filled up for little money.
Incorporate a rice and bean night. In our house we eat on this for two days. If I have leftovers, I freeze them for soups. There is nothing cheaper and more nutiritious than beans and rice. You can cook different varieties and versions of beans. Cook up black beans and serve with spanish rice and tortillas. Or cook rancho style beans and cook some cornbread to go with it. Rice and beans are a perfect protien, and if you can get your family to eat brown rice, even that much better.
Have "two-dinner" meals. In our house I cook four times a week, with left-overs in between. This makes it nice if you are busy with activities. You can plan for leftovers on the busy nights.
Essentially, learning how to make your meals on a budget means finding ways to use the food items you have on hand in new ways and in new recipes. Get creative!





Back to Top of Meals On A Budget
Back to Grocery And Food Savings